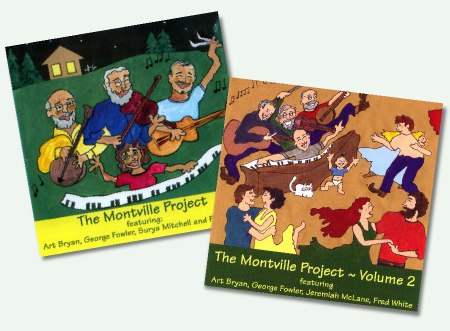 The Montville Project is a Maine/New Hampshire based band dedicated to recording and performing the essential repertoire of New England dance music. The inspiration for our project came in the summer of 2007 at Maine Fiddle Camp (in the town of Montville), when we presented a workshop on essential dance tune repertoire, and subsequently received a number of requests to record a collection of the standard tunes.
We have now issued two albums of "classic cuts", presenting 108 tunes that every aspiring contradance musician should know. While intended primarily as audio repertory for neophyte dance musicians, our recordings are equally satisfying as a toe-tapping listening experience for anyone who enjoys this wonderful American music and dance form.
We invite you to read more about our project, learn a little about each of us, browse over the lists of tunes, listen to some samples of our music, and then - we hope - buy a copy of each of these albums for your music library. Welcome aboard.
Listen
Volume 1 samples
Road to Boston



Southwind Gentle Maiden



Crooked Stovepipe Red Haired Boy



Golden Slippers

Volume 2 samples
Roddy McCorley/Meeting of the Waters



My Home Waltz



Redwing/Pigtown Fling



The Rose Tree/Rakes of Mallow/Old Grey Cat